Home |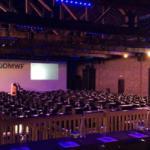 Social media event coverage, have you got time to do it yourself? You've spent a fair sum of money organising your event, how do you go about ensuring your event gets sufficient coverage? Good social media coverage can be critical to the success of your conference. It needs to be in real-time and authentic for your organisation to gain valuable visibility, gain new followers and engage with your potential clients. However, get it wrong, and it can cause a loss of reputation and potential future sales. Get it right, and your business and event can be the hot topic on social media.
Social Media Manager Ireland specialises in social media event coverage, covering conferences and events for clients across the UK and Ireland (we have also promoted events that we have attended for free!). Over the past few years, we have visited and covered such events as #DMWF and #Milsocialmedia with great success.
Our Live coverage combines the use of messaging, live event updates, hashtags and online photos and videos, leaving you with one focus, your event.
What We Do:
We can take manage your social media accounts for the duration of the event OR
Cover the event using our accounts
Create bespoke content throughout the event
Engage with other attendees and influencers
How Much Does Social Media Event Coverage Cost?
A lot less than you'd think! Get in touch today for a low cost, bespoke quote.
Outside of conferences, we can also manage your social presence, take a look a what we can offer.