Featured Images Explained
Often when we work on clients social media channels we find that their posts are missing featured images. But why does that matter?
Featured images in WordPress, also known as post thumbnails are a visual representation of your page or post. Whilst not necessarily visible within the post itself they are a crucial part of the page or post when you share it on social media channels or when your blog post is shown on your blog archive page.
Sharing your pages and blog posts on social media is critical for community engagement. Each time you share a blog post, for example, a 'post preview' is created from the link that you enter. We use an excellent tool for social media scheduling called Sendible. Sendible gives you a great preview of what your post is going to look like before you post it.
The example on the right shows how a post might look without a featured image, not pleasant and not particularly professional.
By adding a relevant and exciting featured image to your post or page, you can spark a readers interest and get them to click on the link. Remember, adding an image that bears no relevance to your page or post just for clicks is:
Bad practice in general as well as bad for 

search engine optimisation

Will cause you reputational damage by getting you known for '

clickbait

'.
Using Yoast on Your WordPress Site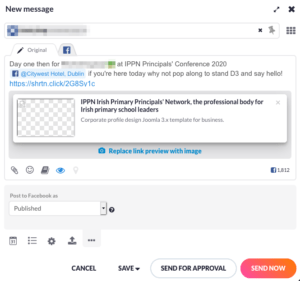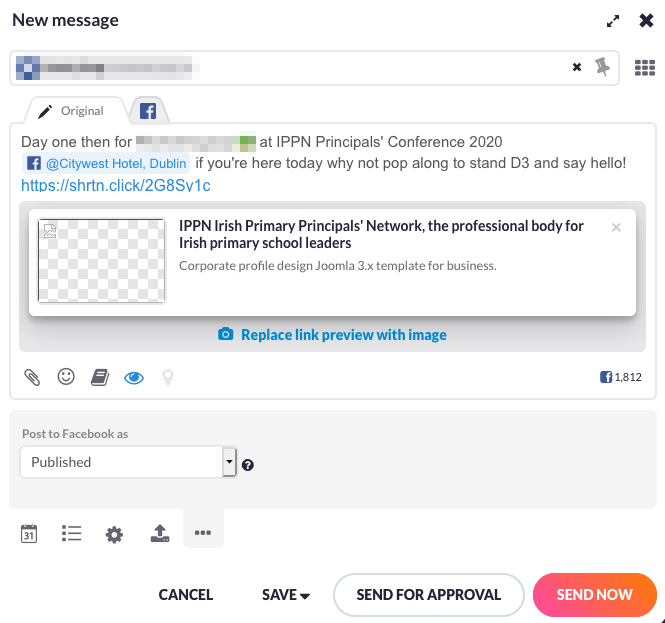 Yoast SEO, to use their own marketing literature is the number one search engine optimisation plugin for WordPress. Yoast is available for free, however we would recommend purchasing the premium edition for $99 as this gives you far more control over your featured images and text.
Adding Featured Images in WordPress
The first step to adding a featured image to your post or page is to determine what is the correct size for the image. Your WordPress site will have a theme applied to (the look and feel). You will need to consult the documentation that either came with the theme or documentation on the developer's website to establish the correct image size. The featured image size for this website is 1920px x 1080px.
On your WordPress dashboard head to the 'posts' or 'pages' section, and choose 'edit' post.
Scroll down the page and look for the 'featured image' box on the right hand side of the page. Click 'set featured image'.
Once the media library opens you will see a selection of images. If you wish to upload a new image, click the 'upload files' tab in the top left hand corner. Upload any image as you would normally and click 'set featured' in the bottom right.
You will now see your featured image in place on the bottom right-hand side of your post or page. Once you are happy with this image, remember to click 'update' to ensure your changes to the post or page are saved.
Featured images in WordPress are always previewed on the page or post in a square format. You are safe to ignore this preview as it should be displayed correctly in your page preview. Correctly displaying images cannot be guaranteed for both Facebook and Twitter. We recommend the Yoast SEO premium module to control these images. We will now show you how to set these correctly in Yoast SEO.
If you are a Yoast SEO premium user can set specific images for both Facebook and Twitter. This images should be created in the following sizes:
Twitter - 1024px X 512px
Facebook - 940px X 748px
Now scroll down to the Yoast SEO Premium panel and click on the 'social' tab. From this tab, you can upload your preview images to each of the social networks. You can also change the title and description if you wish to.
If you find this or any other aspect of running your site too much hassle then check out our website support and care plans.